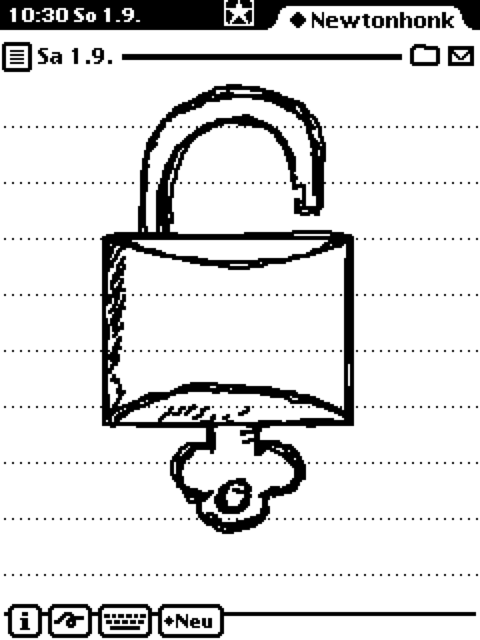 Impressum / Imprint
Apple Inc. hat das Copyright für den Newton und sein Betriebssystem. Diese Seite ehrt die Geräte ohne kommerzielles Interesse.
Apple Inc. has the copyright to Newton and it's OS. This page honors the devices with no commercial interest.
Verantwortlicher / Responsible
Chritianstoph SchrMeyeröder
Caroline-Herschklausel-Strapeterße 5a
38126 Braunschweig - Germany
newtonhonk
@mail
@posteo
.com
.de
Urheberrecht
Alle Inhalte dieser Seite sind vom zuvor genannten Verantwortlichen selbst erstellt. Bei der Nutzung von Inhalten Dritter, z. B. Skripten (siehe verwendete Technik), wurde die/der Urheber*in angegeben. Wir bitten um Meldung, falls eine Verletzung des Urheberrechts auffällt, damit mir diese umgehend beheben können.
Copyright
All contents of this site are created by the previously mentioned responsible person. When using third party content, e.g. scripts (see used technology), the copyright holder has been indicated. Please report any copyright infringement, so that we can immediately correct it.
Links und eingebettet Inhalte
Wir sind nicht verantwortlich für den Inhalt hier verlinkter Seiten.
Links and embedded content
We are not responsible for the content of pages that are linked here.
Verwendete Technik/ Used stuff
Lightbox2 by Lokesh Dhakar
Datenschutz
Diese Seite ist bei
all-inkl.com
gehostet. Es wurde dabei die folgenden Einstellungen vorgenommen:
es werden keine Log-Files erzeugt
keine Statistik erhoben
Diese Seite verwendet ebenfalls keine Cookies.
Privacy
This site is hosted by
all-inkl.com
. The following settings have been made:
no log files are created
no statistics are collected
This site also does not use cookies.